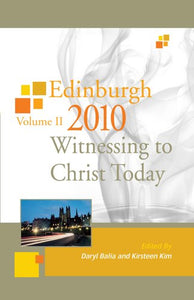 Regnum Books
Witnessing to Christ Today
Regular price
$39.70
$0.00
Unit price
per
Tax included.
Shipping
calculated at checkout.
Daryl Balia and Kirsteen Kim
2010  |  301pp  |  ISBN: 9781870345774
Also available as an eBook here
The Edinburgh 2010 study process is unique. Set up to mark the centenary of the World Missionary Conference, Edinburgh 1910, it is a project of churches worldwide which is multi-regional, cross-denominational and poly-centric. It involves all the major Christian world bodies, including Catholic, Orthodox, Protestant, Evangelical and Pentecostal, with study events taking place in every continent that involve hundreds of Christians in different parts of the world. This volume, the second in the Edinburgh 2010 series, includes reports of the nine main study groups on different themes which will be used as the raw material for discussions at the conference in June 2010. Their collaborative work brings together perspectives that are as inclusive as possible of contemporary world Christianity and helps readers to grasp what it means to be 'witnessing to Christ today'.
---