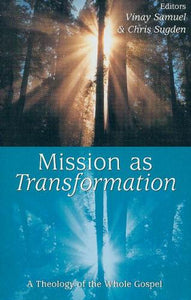 Regnum Books
Mission as Transformation
Regular price
$38.42
$0.00
Unit price
per
Tax included.
Shipping
calculated at checkout.
Vinay Samuel and Christopher Sugden
1999  |  522pp  |  ISBN: 9781870345132
A Theology of the Whole Gospel
Mission as Transformation: A theology of the whole gospel brings together in one volume twenty-five years of biblical reflection on mission practice with the poor from around the world.
The whole gospel is centred on the rule of Christ over the whole of life. It seeks to impact a community with the values and the spiritual challenges of the kingdom of God. The key to wholistic ministry is enabling people to experience Christ's Lordship.
Wholistic Mission integrates proclamation, evangelism, church planting and social transformation in a seamless whole of Chrisitan mission. This approach to mission has been adopted since 1983 by most evangelical agencies involved in development, and most indigenous mission agencies involved with transforming the lives of the communities they work with. It also represents the approach of many Pentecostal churches.
---