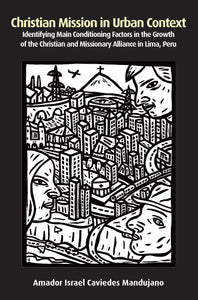 Regnum Books
Christian Mission in Urban Context
Regular price
£15.00
£0.00
Unit price
per
Tax included.
Shipping
calculated at checkout.
Amador Israel Caviedes Mandujano
2019  |  245pp  |  ISBN: 9781912343874
Identifying Main Conditioning Factors in the Growth of the Christian and Missionary Alliance in Lima, Peru
Also available as an eBook here
This book is the result of a socio-theological analysis of the substantial membership growth of the Christian and Missionary Alliance – C&MA – in Lima, Peru, since 1973. The C&MA is a Christian Protestant denomination with worldwide work, particularly in North America, Latin America, Africa, Asia and lately in Europe. The focus here is on its work in Lima, Peru. The C&MA started its work in Lima in 1957, and by 1973 had 120 members. Today's membership has grown to about 60,000 with heterogeneous social backgrounds. It is this substantial membership growth, starting at the end of 1973, which has motivated the main research question: What are the main conditioning factors that have led to the substantial growth of the C&MA in Lima since 1973?
---