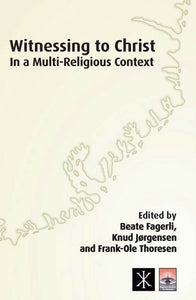 Regnum Books
Witnessing to Christ In a Multi Religious Context
Regular price
£10.00
£0.00
Unit price
per
Tax included.
Shipping
calculated at checkout.
Beate Fagerli, Knud Jorgensen, Frank-Ole Thoresen and Frank-Ole Thoresen
2016  |  168pp  |  ISBN: 9781911372011
Also available as an eBook here
The essays in this volume focus on the developing multi religious context in Norway, but like all good contextual theology they also have implications for the wider church.  Because of this, these essays are like paradigms of the kind of theology and missiology that needs to be done in many contexts throughout the world.  The face of our world is changing, and so must the way we think about -- or, better, imagine -- our witness to Christ.
Stephen Bevans SVD, Louis J Luzbetak Professor of Mission and Culture (Emeritus) at Catholic Theological Union, Chicago
---