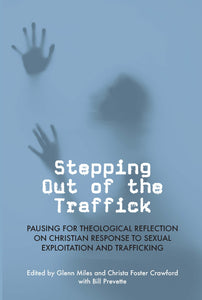 Regnum Books
Stepping Out of the Traffick
Regular price
£20.00
£0.00
Unit price
per
Tax included.
Shipping
calculated at checkout.
Glenn Miles and Christa Foster Crawford (eds) with Bill Prevette
Pausing for Theological Reflection on Christian Response to Sexual Exploitation and Trafficking
2022  |  pb  |  ISBN: 978-1-914454-71-4
AVAILABLE FOR PRE-ORDER
For more than two decades, the modern anti-trafficking movement has been moving forward in the necessary and admirable goal of ending sexual exploitation. But are we on the right path? Do our practices actually bring about lasting freedom? What more ethical and effective routes can be discovered?
For those who are Christians, we must also pause to consider how the paradigms of our faith impact our understanding of the problem and the practices we develop in response. Freedom matters. Faith also matters. And how well we do one affects how well we do the other.
In this companion to Stopping the Traffick and Finding Our Way through the Traffick, experts in theology and practice pause to reflect on Christian response to sexual exploitation. We invite you to join us in Stepping Out of the Traffick to develop even better ways in our pursuit of freedom.
Glenn Miles, Ph.D., is an international consultant in child and vulnerable people rights doing mentoring, training, research and advocacy, focused in Asia for more than thirty years.
Christa Foster Crawford, J.D., is an international consultant providing resources and expert advice on ending human trafficking and sexual exploitation in Thailand, the Greater Mekong Subregion and beyond for more than two decades.
Bill Prevette, Ph.D, is a mission scholar and practitioner whose research focuses on youth and children at risk in the developing world as well as human trafficking, urban research, and community development.
AVAILABLE FOR PRE-ORDER
---