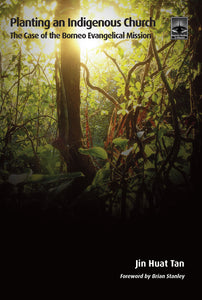 Regnum Books
Planting an Indigenous Church
Regular price
$23.05
$0.00
Unit price
per
Tax included.
Shipping
calculated at checkout.
Jin Huat Tan
2011  |  336pp  |  ISBN: 9781870345996
The Case of the Borneo Evangelical Mission
The story of the BEM and the SIB highlights the importance of intentinal mission policy and its substained implementation for the development of an indigenous church.  having a clearly defined exit policy provided the necessary impetus for the BEM to plant a church which was able to stand on its own feet.  There have been a number of contextual factors, such as the administrative policies of the Brooke government and the changing political situations in Sarawak and Malaysia, that have threatened to limit the growth of BEM and SIB.  However, the abilities of indigenous leaders in taking ownership of the SIB, have enable them to negotiate these challenges in such a manner that has made it the most significant indigenous church in Malaysia.
---