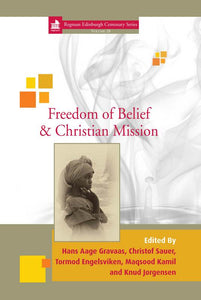 Regnum Books
Freedom of Belief & Christian Mission | eBook
Regular price
£6.00
£0.00
Unit price
per
Tax included.
Shipping
calculated at checkout.
Hans Aage Gravaas, Christof Sauer, Tormod Engelsviken and Knud Jorgensen
2015  |  494pp  |  ISBN: 9781912343423
Christian mission takes place in a world with increasing interreligious tensions, including violence and persecution. Politics, economics, religion, ethnicity and other factors play a role in these tensions.  Christians, too, are involved in such conflicts, sometimes as those who are persecuted and sometimes as those participating in violence. 'Freedom of Religion and Belief' is a core value in the UN Human Rights Declaration.  At the same time it is of a core biblical value.  Obstacles to and attacks on freedom of belief are therefore a central concern for witnessing to Christ.  The purpose of this volume on Freedom of Religion and Belief and Christian Mission is to bring to public attention a broad overview on the history, development and perspectives on the role of mission and freedom of belief and to reflect on these issues within a context of authentic witness in mission.
---