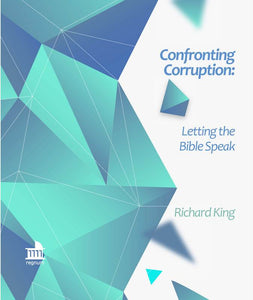 Regnum Books
Confronting Corruption | eBook
Regular price
$3.84
$0.00
Unit price
per
Tax included.
Shipping
calculated at checkout.
Richard King
2018  |  119pp  |  ISBN: 9781912343775
Letting the Bible Speak
Corruption blights the lives of countless people around our world. It is a scourge of the poor and weak. It is a road block to change. It is detestable to God. The purpose of this book is to transform attitudes and behaviours of Christians who live in societies where corrupt behaviour is a fact of life and to do this by letting the Bible, as God's word, speak. The book is intended to be used for weekly reading by pastors at church services to remind congregations that corruption has no place in Christian life, as a resource for Bible colleges in training pastors/church workers and for small group Bible study.
---